Here's where our story starts. We have 10 rows of older seats in the front, and 7 rows of new(er) rocking chair in the back, a total of 215 seats. We decided to update the seats instead of replace them to keep the historic setting and preserve our history.
A view of the seats before renovations.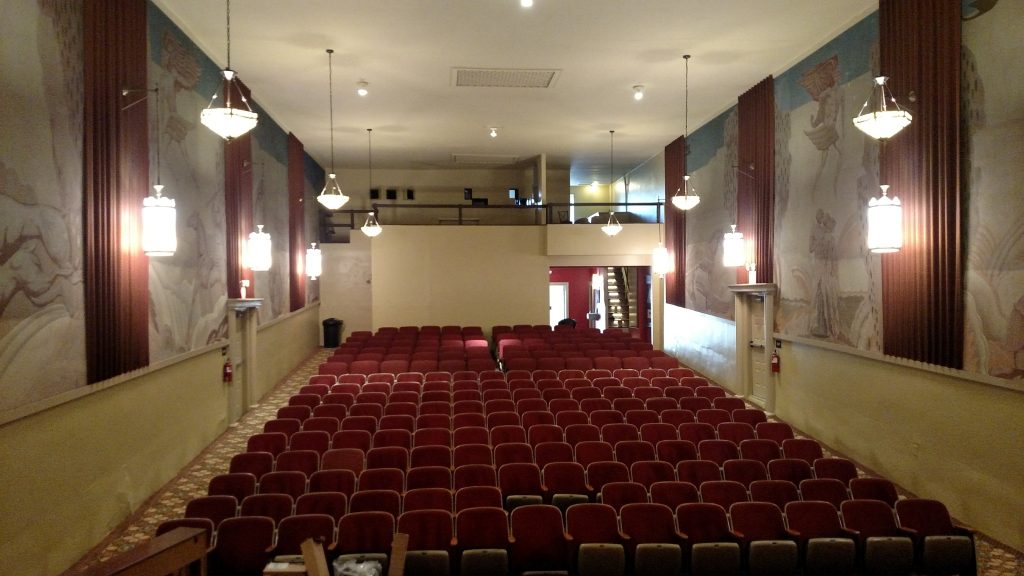 First Row – 107 volunteer hours – February 4, 2022 – May 20, 2022
First, we removed the backrest of the seats, this is held on by 4 bolts and 4 nuts and set them on our stage.
Next, we removed the seats that are attached the the metal arms, these are attached by 2 large bolts, washers, lock washers, and nuts, and set them on the stage.
Then, the metal arms that attach to the floor. There are bolts in the concrete floor, and the arms are attached to those in four places.
After the seats are taken apart, they must then be disassembled. The metal parts and the upholstery parts must be separated, because they will be going to different places. The metal parts are transported to Maguire Products in Aston to be shot blasted, and after that, they are transported to A.W. Mercer to be powder coated. The upholstery parts go to a local upholsterer to be torn down and new foam and fabric to be installed.
We had to make jigs in order to put the seats back together, find specific hardware in order to replace the old, and figure out the whole process and how to actually get it done.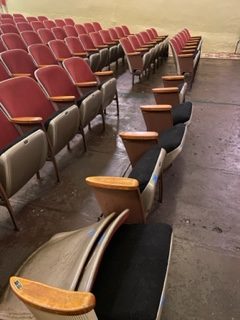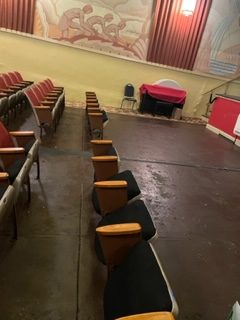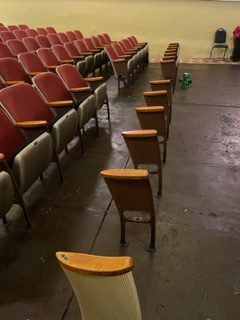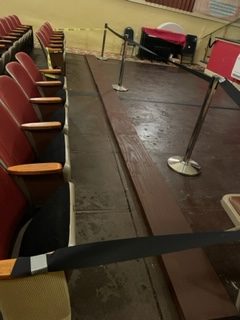 The first row is gone! This was a long and enduring process to get to this point, but here we are. Can't stop now!
The wooden box on the floor is to cover the bolts sticking out of the concrete floor. We wanted to paint this in the same color as the floor so it would not look like we were "under construction". We do try to make the theatre look presentable at all times, no matter what projects we have.
Below are a few pictures of the process of dismantling the seats, the metal from the fabric. The parts are taken to a warehouse and lined up. They need to be numbered so that they are installed in the same place when they get back to the theatre.
The seats and backs all look the same, but they are all very different measurements (only be a few milimeters) but it makes a big difference when they are re-asssembled, and especially because they have a new layer of paint on them.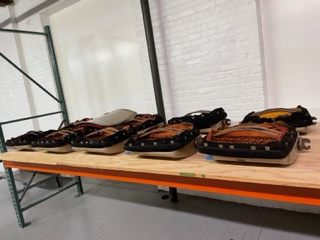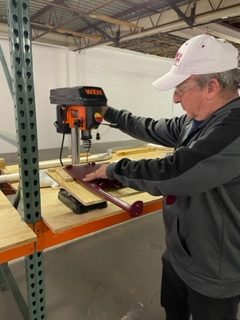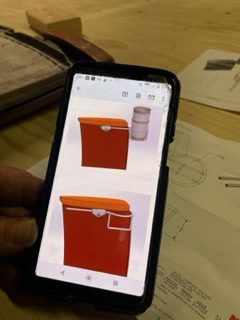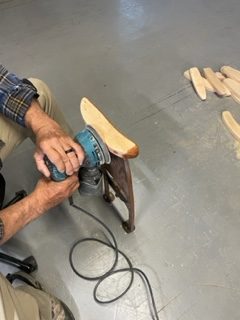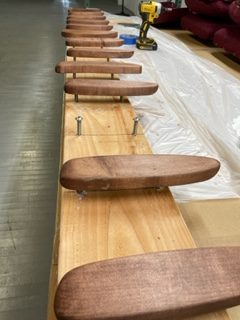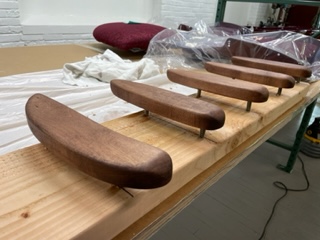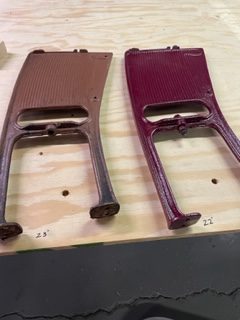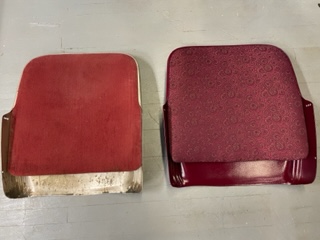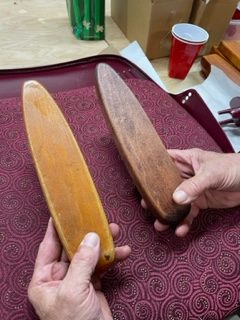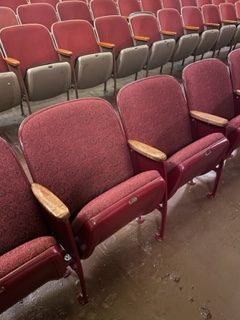 The updated seats now have all new bolts, screws, washers, locking washers, etc, along with a new fabric pattern and paint.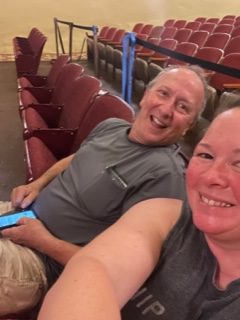 ROW 2 – May 20, 2022 – July 4th, 2022 – 57.5 Volunteer Hours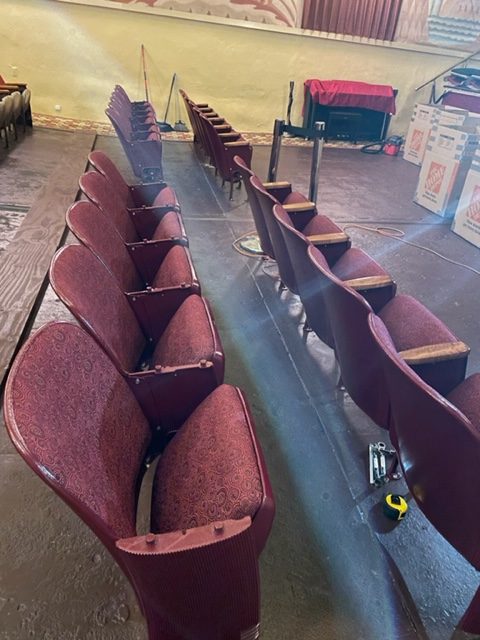 ROW 3 – July 4th, 2022 – August 4th, 2022 – 60 Volunteer Hours
The rows are going faster now as we are streamlining our processes. Row 3 did have more chairs than the previous 2 rows.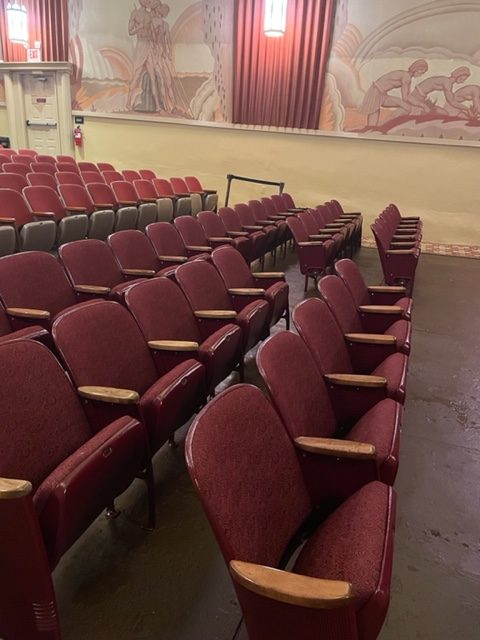 ROW 4 – August 4, 2022 – September 4, 2022 – 57 Volunteer Hours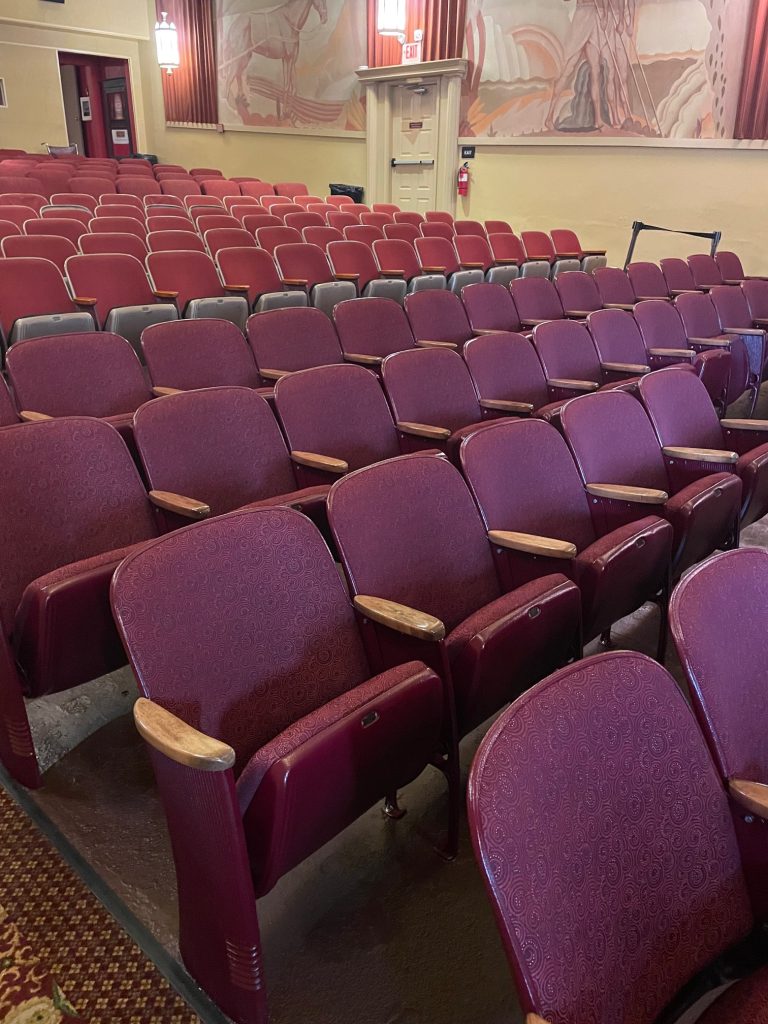 ROW 5 – September 4, 2022 – October 15, 2022 – 44 Volunteer Hours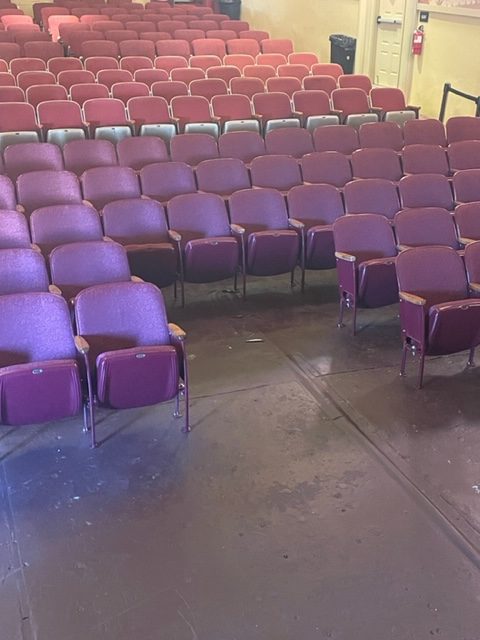 ROW 6 – October 15, 2022 – November 13, 2022 – 35 Volunteer Hours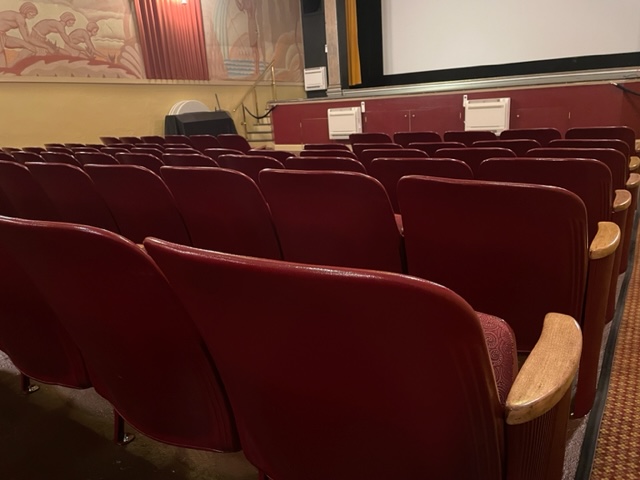 ROW 7 – November 5th, 2022 – November 19th, 2022 – 36 Volunteer Hours
We have started taking out rows before installing the row before, just to move the process along as much as we can. So far to this point, the 2 of us (Ken and Shannon Shaw) have put in 411 volunteer hours on this project, and counting.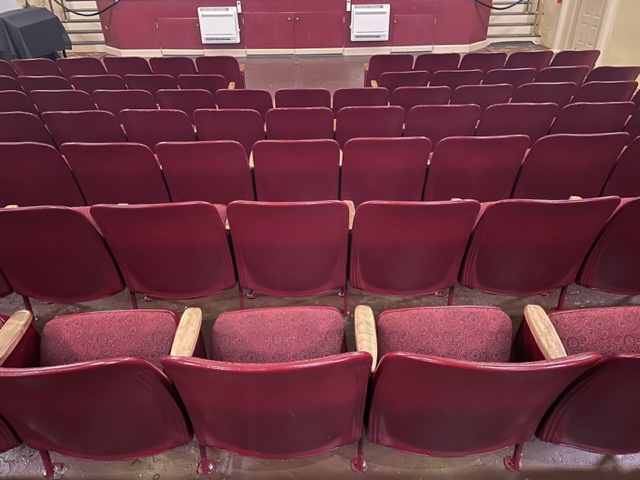 ROW 8 – November 18th – December 7th – 33 Volunteer Hours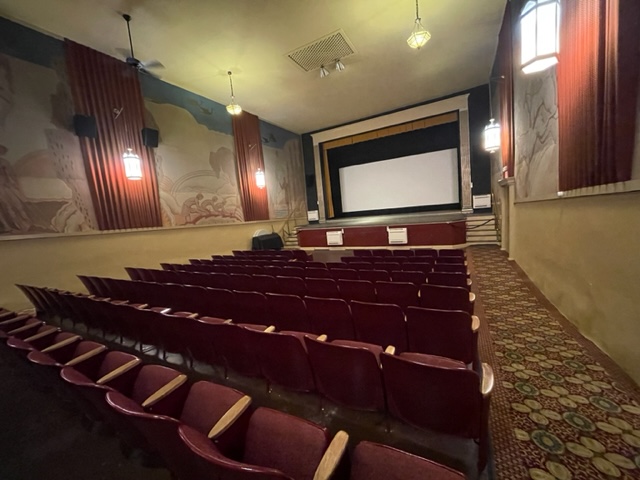 ROW 9 – November 23rd, 2022 – January 14, 2023 – 39 Volunteer Hours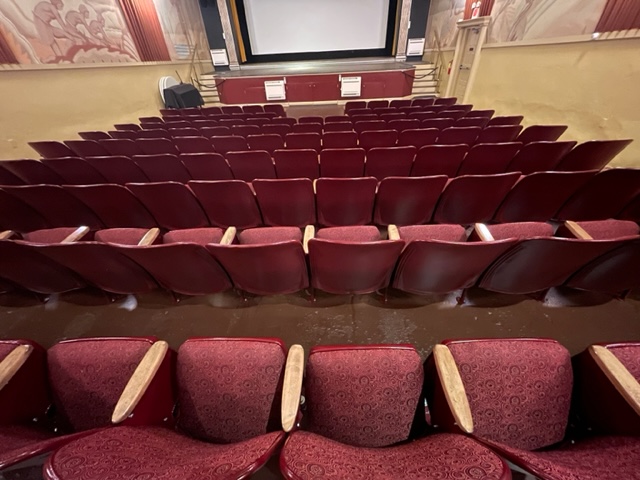 ROW 10 – January 8, 2023 – January 31, 2023 – 50 Volunteer Hours
Our painter is on vacation, so before we installed this row we had to prep and paint the floor ourselves. When each row comes out, the floor is re-painted.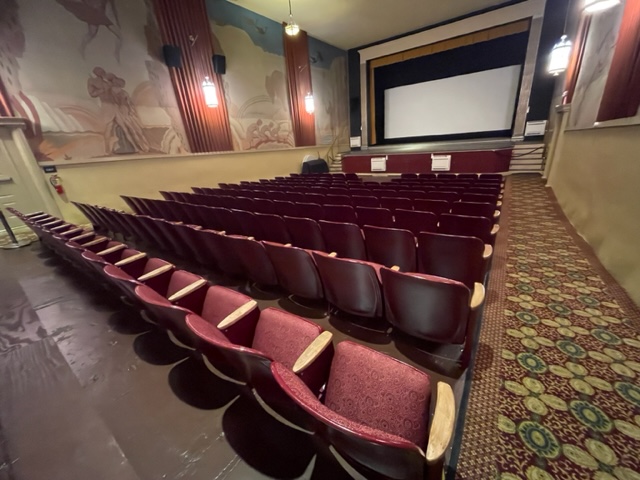 ROW 11 – January 19, 2023 – – ? Volunteer Hours
This row is the start of the newer style chairs. This row starts an entirely different process and will take some time to get all of the jigs and new parts completed before we are able to continue.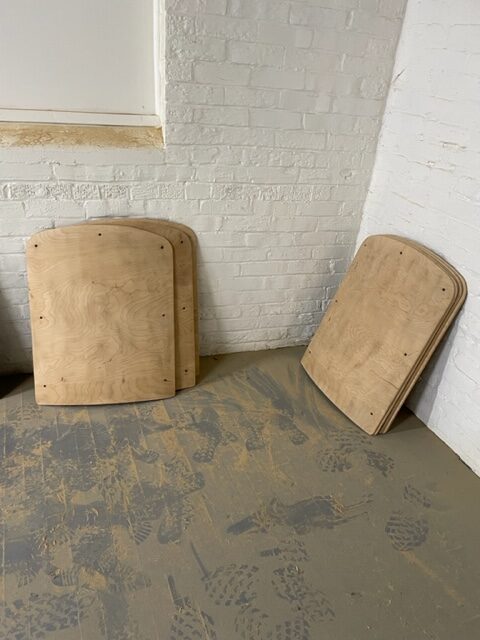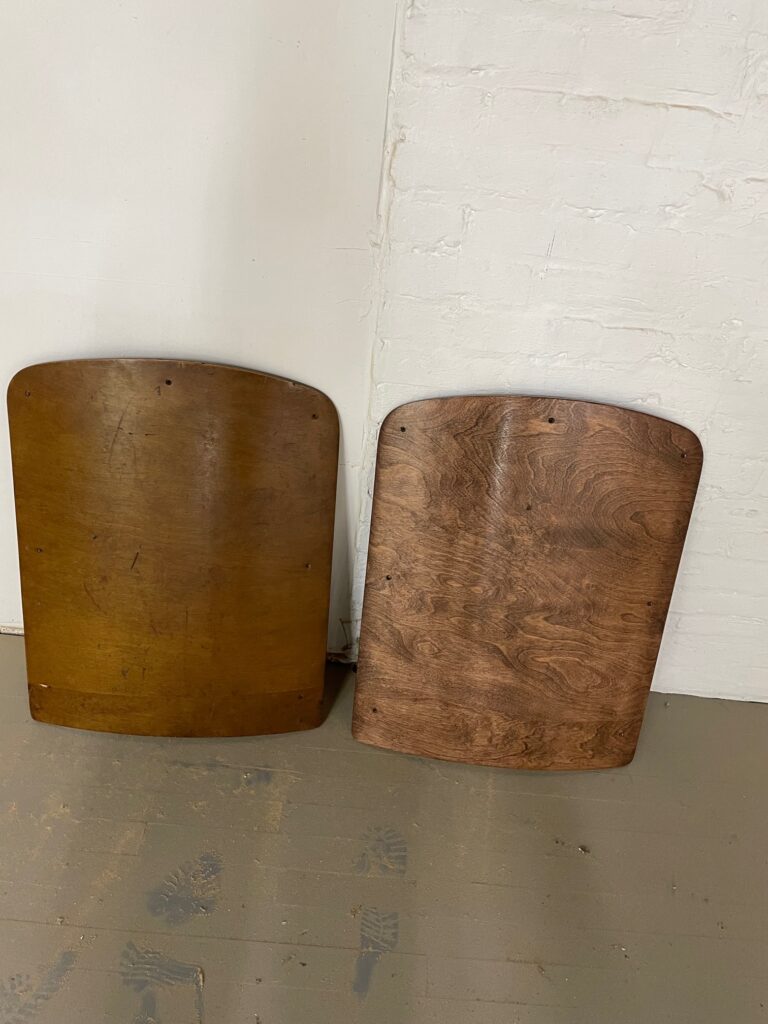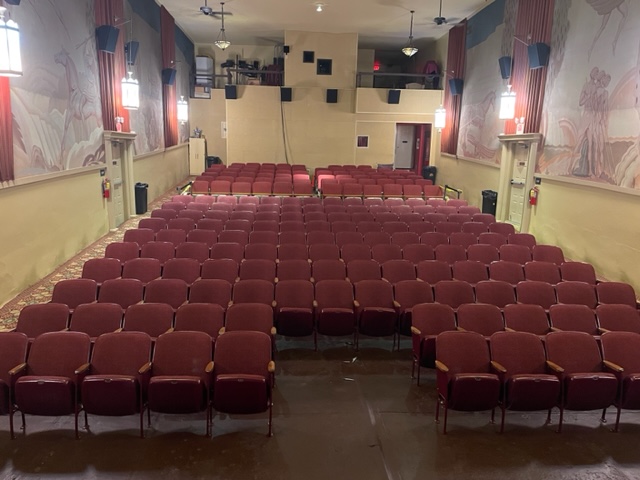 Make a Donation
Please consider making a donation to the Boyertown State Theatre: